The PERIOD. Mission
PERIOD. is a youth-fueled nonprofit that strives to eradicate period poverty and stigma through service, education, and advocacy. Through the distribution of menstrual products, promotion of youth leadership, and championing of menstrual equity in policy, PERIOD. aims to center those disproportionately affected by period poverty and support local efforts for menstrual equity.

Our Global Network
PERIOD. is composed of hundreds of youth chapter members, grassroots organizers, service partners, and a network of partner organizations and companies. To learn more, visit our Get Involved page to find out which partnership is the right fit for you.
See below to learn more about our Team and Youth Advisory Council applications!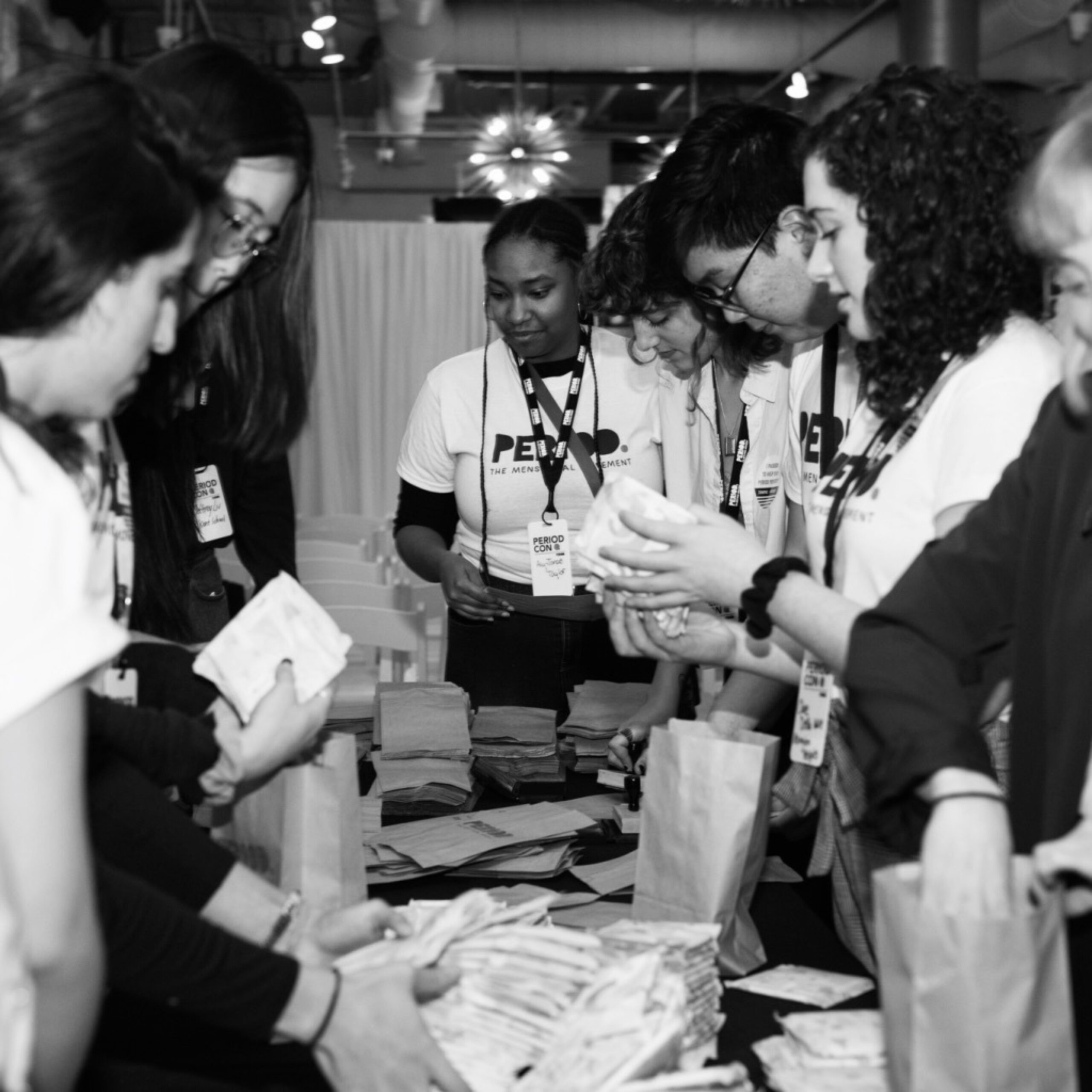 Photo Credit to Beatrice Domingo
About Us
PERIOD. is a global youth-powered nonprofit focused on eradicating period poverty and period stigma through service, education and advocacy. PERIOD. annually distributes millions of menstrual products for free to people in need, and helps support a network of hundreds of PERIOD chapters, youth-led organizations and product distribution partners. Period poverty must be solved with systemic solutions, and through the creation and distribution of menstrual health education, PERIOD. works to destigmatize menstruation and promote menstrual literacy. PERIOD. proudly advocates for menstrual equity policies such as a repeal of the luxury tax on menstrual items and mandating period products in schools. Activating a grassroots network of thousands of advocates, PERIOD. will help solve period poverty in our lifetime.

PERIOD. was founded in 2014 by Nadya Okamoto and Vincent Forand, two high school students in Portland, Oregon. Since then, the organization has grown to hundreds of volunteer chapters around the nation and world. In 2020, grew in staff capacity and Board governance, hiring a new Executive Director and senior leadership team, including a Youth Advisory Council.
Youth Advisory Council Cohort
The Youth Advisory Council is a governance committee tasked with supporting the work of PERIOD by providing insight and advice to PERIOD's programs and strategy. The group consists of 12 activists, ages 14-25, who meet bi-monthly to tackle essential questions and provide strategic advice to PERIOD staff and Board of Directors. Council Members are the voice and face of PERIOD's youth activists, and will ensure that the voices and diversity of young activists are heard and represented in PERIOD's decision making and program design.

We are currently accepting applications for the 2022-2024 Youth Advisory Council Cohort.
Apply to be in PERIOD's 2022-2024 Youth Advisory Council
Changes at PERIOD.
PERIOD. has undergone many changes this year and is continuing to take steps to create a more inclusive and representative organization. PERIOD. has retained Dragonfly Partners to assess how we got to this place, which includes a review of our programs and communications. We appreciate those who are working to hold us to account. Below is a preliminary report from Dragonfly Partners.
Want to join the team?
When positions with PERIOD are open, you'll find them listed below and you can click the links below to apply.
For volunteering opportunities, please email info@period.org.