With chapters in over 40 US states and over 20 countries, PERIOD. activists have made strides for menstrual equity in their communities around the world.
Chapters work to advance PERIOD.'s mission of eradicating period poverty and stigma by creating action plans that employ our three pillars of service, education, and advocacy in their own community!

Learn about PERIOD. Chapters!

Want to get involved with PERIOD. Chapters?
Start your own PERIOD. Chapter!
Our Chapter Applications are open at limited times throughout the year.

Step 1: Attend an Intro to PERIOD. Chapter Call

Join us for one of our bi-weekly calls to learn more!*

Fridays at 3:30pm PT | 6:30pm ET
Can't make it on Friday's? Email us at chapters@period.org so we can find a time that works for you.

Step 2: Submit a Chapter Application
After you attend an Intro to PERIOD. Call, please submit an application below. This will ensure you have a unique name for your PERIOD. Chapter.
Step 3: Register your Chapter
Upon approval, register your Chapter and let's get to work!
Chapter Registration information will be emailed to the PERIOD. Chapters upon approval.
Any and all menstrual equity groups can use the resources below!
Connect with a Chapter near you!
We may have a PERIOD. Chapter near you! Our chapters are youth-led, and you are welcome to connect with them on social media if they have an account.
if you'd like to connect with a PERIOD. Chapter and haven't heard back from them, email us at chapters@period.org
Check out our resources!
Resources to address period poverty are available to everyone, via our Launch Pad. The Chapter Portal is exclusively for our Chapter Community to connect, and for resources specific to leading a PERIOD. Chapter.
Check out PERIOD. @ University of Central Florida!

Chapter Stories
Below you can find stories from our incredible chapters around the world! Whether you've just joined the PERIOD fam, are a seasoned chapter looking for inspiration, or just want to browse the successes of your peers, check out the slide below! As always, remember to update the PERIOD staff with your events so we can help celebrate YOU!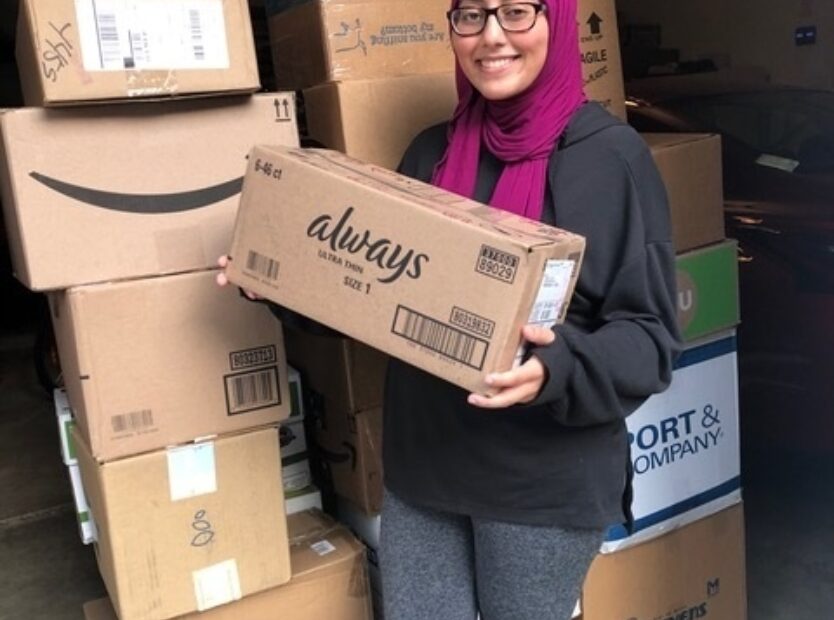 PERIOD. @ Toledo, OH
"Thank you so much to everyone who came out to our donation drive to drop off product!"
PERIOD. Toledo hosted a product drive to benefit menstruators in need in Beirut, Lebanon in the wake of the explosion in August. Periods don't stop in crises, and thanks to our tireless chapter members, menstruators will continue to be served where help is most needed.

Photo Courtesy of PERIOD. @ Toledo
Starting a Chapter FAQs
Thinking about starting a chapter in your school or community? Wondering how to get the ball rolling? Read below! If you are an existing chapter and have more specific questions, please head over to the Launchpad where you'll be able to find more information!